8 Simple + Sweet Lactation Recipes for Nursing Mothers
Mama on the Homestead participates in the Amazon Services LLC Affiliate Program. This allows me to make a small commission on goods you purchase through my links. Thank you!
Simple lactation recipes to help boost milk production…
Breastfeeding is a very rewarding experience for mother & child, but it can be stressful as well. Many mamas have trouble producing enough milk for their little ones and some want to produce extra for an emergency bottle stash.
So how do you effectively increase your supply? You could take recommended vitamins and herbs (blah!). Or you could eat delicious cookies & smoothies with lactation boosting ingredients! In celebration of National Breastfeeding Month and all lactating mamas, I have rounded up 8 Yummy Lactation Recipes for you to try out!
*Don't feel left out if you formula feed or if you don't have an infant in the house or if you are a man;) You can enjoy these recipes just as much as a lactating mama!
These recipes all contain 2+ of four lactation boosting ingredients: Brewers Yeast, Flax Seed Meal, Fenugreek, and Oatmeal
8 Lactation Boosting Cookies & Smoothies
Lactation Recipe #1: Baby Mama Bars- Mary Makes Good
These bars are packed with protein and nutrients-oats, flax seeds, hemp hearts, brewer's yeast, and almond flour. They also contain my favorite ingredient–>chocolate:).
Lactation Recipe #2: Double Chocolate Lactation Cookies- Buttercream Sugar
I mentioned that my favorite ingredient is chocolate so of course I had to include a DOUBLE chocolate recipe! Chocolate on top of chocolate cookies with brewer's yeast and flax seed meal to boost that milk supply!
Lactation Recipe #3: Pumpkin Spice Lactation Cookies- Premeditated Leftovers
Fall…Hoodies…Bon Fires…Pumpkin Spice… Can't have one of these without having all of them, right? These Pumpkin Spice cookies are the perfect snack for you this fall, mama!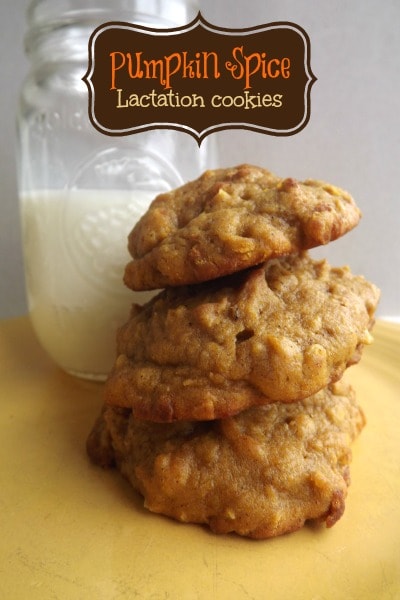 Lactation Recipe #4: Cinnamon Apple Lactation Cookies- Premeditated Leftovers
Speaking of fall….Try these delicious cinnamon apple cookies from Premeditated Leftovers!
Lactation Recipe #5: No Bake Lactation Cookies- The Herbal Healing Mama
You don't have the time or energy to bake? I gotcha covered, mama!
Lactation Recipe #6: Chocolate Chip Lactation Cookies- Dessert Now Dinner Later
This recipe is an improved version of an oatmeal raisin cookie because the raisins have been replaced by chocolate chips. The fenugreek, brewer's yeast, flaxseed and oatmeal work together to increase milk supply with just 1 cookie per day!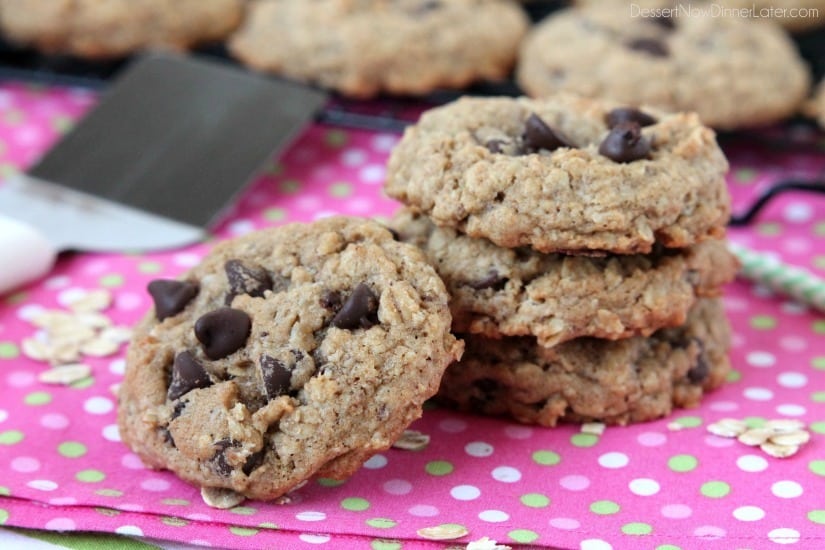 Lactation Recipe #7: Oatmeal Banana Lactation Smoothie- Fab Haute Mama
Oatmeal, flax, and brewer's yeast are mixed with banana, almond milk, peanut butter, and spices to make this delicious milk boosting smoothie!
Lactation Recipe #8: Chocolate Peanut Butter Banana Milkshake- We're Parents Blog
This recipe uses oats, flax seed, peanut butter, banana , and chocolate. Yum!
---
>>More Motherhood Resources for You<<
---
Have you ever tried any of these lactation boosting cookies or smoothies? Which one worked best for you?
---
Pin "8 Simple + Sweet Lactation Recipes for Nursing Mothers" for Later!